I only make it home to the Sault a couple times a year. Usually over the holidays, and again some time during the summer. The Sault is one of those love/hate home towns. When you're here you love to hate on it, and when you're gone you hate that you can't be there more (because really you love it).
Every time I'm home I go through a checklist of food I need to eat while I'm here.Things I can't get anywhere else in the world (although I have been trying to cook some of them myself lately). Yesterday I had the pleasure (guilty I might add) of having three of the things on my list.
1. Ricardo`s Pizza

:

Panzarotti
You can see on the far right on the shelves in the picture fried bundles of goodness, those would be their one of a kind panzarotti. Bassically the best slice of pizza ever, rolled up on itself (with extra cheese stuffed in for good measure) and then deep fried. You cut it up and dip it in home made marinara sauce. Everybody wins (except for your cholesterol levels).
2. Deep Fried Ravioli
This is something that I can`t seem to find outside the Sault. Here they grace the appitizers menu of pretty much every restuarant worth its name. Usually mini meat filled ravs, breaded and fried. Best dipped in ranch, marinara or believe it or not plum sauce (Uncle Gino`s I`m looking at you). Last night I had the pleasure of eating a basket of these at 2 in the morning.
3. West Side Cafe, Poutine
Now you may know, I happen to love good poutine. And while West Side might not live up to the high standard of
The Big Cheese back in Calgary
, when you want post bar food in the Soo, this 24 hour dinner will serve up exactly the kind of greasy goodness you`re looking for, and poutine is their specialty. Last night I thought, what the heck, and ordered up a bacon poutine and some deep fried ravs.
Then this happened.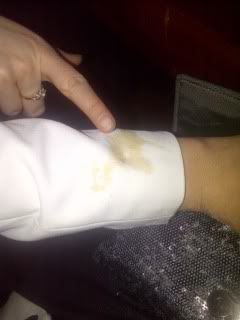 That's right, I got gravy on the sleeve of my brand new white tuxedo jacket. So much happiness turned to so much sadness so quickly.
What other places do I plan on eating at while I home this next week? (apart from my nana's kitchen) For sure on the list is Aurora's Pizza (best pizza ever!), the only sushi place in town, Uncle Gino's for breakfast, Gigi's for lunch, and Giovani's with Krista.
Now I better go get my ass on the treadmill, so I can continue to eat at a frantic pace (hey it's probably going to be at least 6 months before I get to eat this stuff again).
What places do you absolutely have to go to when you visit your home town?