Yesterday I was a three in one day.
I woke up bright and early and headed to my MMA boot camp class up in the North East. 45min of early morning sweating that included TRX, throwing punches and smashing up an old punching bad with a sledge hammer.
Ok except I don't really hate it, it's been lots of fun and empowering so far!
Then after a long day of fun at the passport office, in the lab and TAing I went to my first Hatha style yoga class. And let me tell you, it was a great way to de-stress and relax (excellent way to round out a week). I haven't been to a yoga class in a while, and 30 seconds into shavasana I knew how much I missed it. Good thing I've activated my
Passport to Prana
and can start hitting up studios all over Calgary.
Sometimes you really need to take some time to just breath.
Finally after a chicken quesadilla and a beer for dinner at Moose's, Kev and I decided to work it off by doing the deck of cards workout. I saw this one on the Biggest Loser a couple weeks ago, and if you read
Nut Case In Point
, then you'll know Jen's been rocking this workout lately too!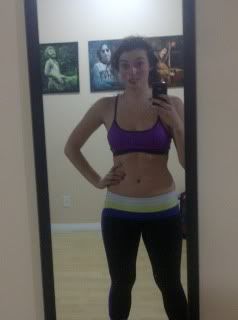 Unlike Jen, who usually does two rounds, we were killed after one.
For ours, these were the exercises we did:
Hearts: Burpees
Spades: Jump Squats
Clubs: Pushups
If you are unfamiliar with this workout, the aim is to work your way through a deck of cards, doing the card's number of each exercise, face cards worth 10 and aces are 11. Just for fun, we through the jokers in and had to hold a plank for as long as possible each time they came up.
What I have to say, if you work your way through at a respectable pace, one set will exhaust you, in an awesome way. And if you're like me, and did all three of these workouts yesterday, your arms/shoulders/armpits/back/abs/legs will be hurting for it today.
Have you tried this new card game yet? I think its a great idea, especially to make up for using cards only for drinking games all this time.