Today is my 25 birthday.
Last year I made a list of
25 things before 25
. The list was kind of spur of the moment, a combination of fun ideas and goals I'd had for a while.
I didn't complete them all
, but it carried me through an incredible year.
This year I'll do it again.
26 things before I turn 26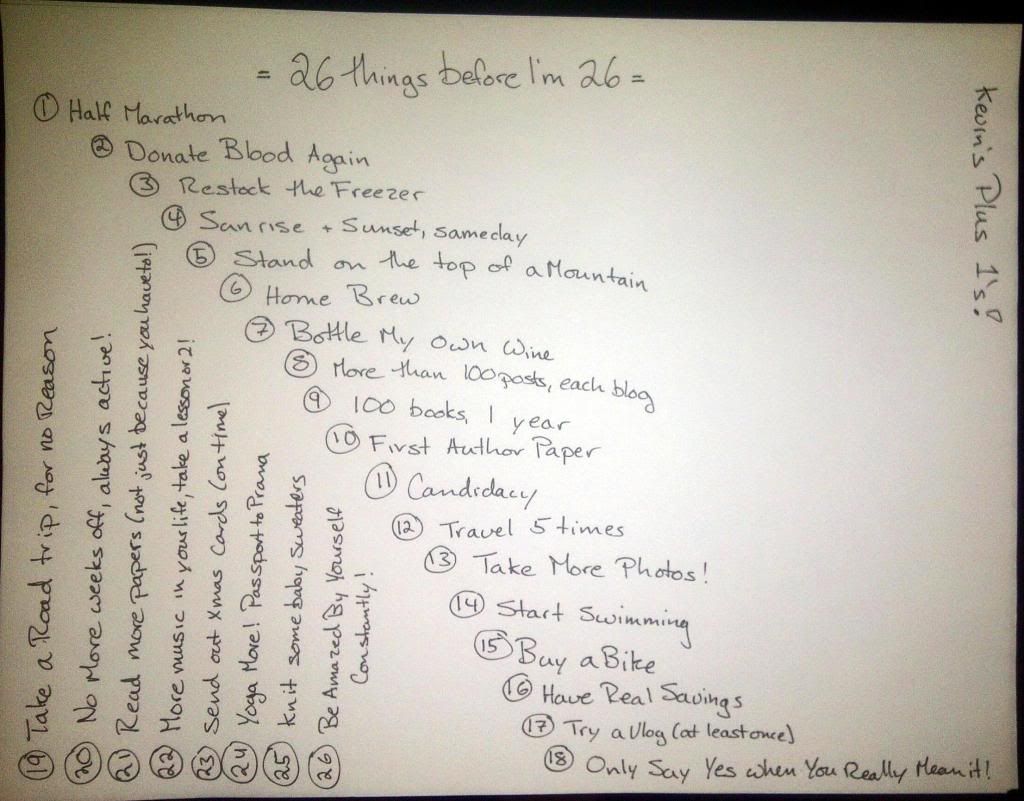 Half Marathon
Donate Blood Again
Restock the Freezer
Sunrise and Sunset in the same day
Stand on the top of a Mountain
Home Brew
Bottle my own Wine
More than 100 posts on each blog this year
Read 100 books in 1 year
First Author Paper
Candidacy Exam
Travel 5 times
Take More Photos, More Often
Start Swimming
Buy a Bike
Have Real Savings
Try a Vlog (at least once)
Only Say Yes when you really mean it!
Take a road trip, for no reason!
No more weeks off, always stay active!
Read more Papers (not just when you have to)
More music in your life, take a lesson or 2
Send out your Xmas Cards (on time!)
Yoga More, use your full Passport to Prana
Knit some Baby Sweaters
Be Amazed By Yourself, Constantly!
And I left some room, cause Kevin said he wanted to add some Plus ones!
I love goals like this, goals that are simple, that require only you to achieve, and that leave you more incredible than you were before.
Do you have a list of goals this year?