A couple weeks ago the boyfriend took me out for birthday dinner. I wanted Italian, specifically, home style Italian. Usually we go to this little place in the North East called
Rea's Italian Cucina
. The food is amazing, and you know it's authentic when you can occasionally hear people arguing in Italian in the kitchen. When I got back from Italy last summer, we went to Rea's and the food was just as good as it had been while I was away.
Unfortunately they aren't open on Sunday's. So Kev searched the internet for somewhere just as good, and came across
La Viena
on Kensington. Let me tell you this, with the one small exception that I couldn't find any prosciutto on the menu, the food was just as good.
Don't let the exterior fool you, I've driven past
La Viena
more times than I can count, and have either never noticed it, thought it was a restaurant or that it could possibly be worth eating at. It was amazing.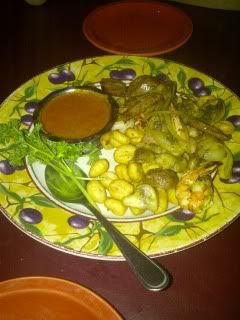 Deep fried gnochi ap. The poor cell phone photo does it very little justice.
We started with one of their specials for an appetizer, deep fried gnochi with shrimp and Italian sausage. First of all it was a huge portion (really a meal in of itself) and second, it was heavenly. I would come back just for this plate, if only it were on the regular menu!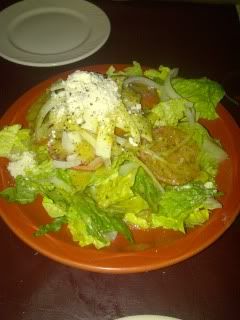 Look at all that cheese glorious cheese on this salad!
Next up was a tomato and fresh mozzarella salad, once again giant, once again delicious! Could have maybe done with a bit less onion (but I'm just not a fan of raw onion really).
And for my main course, well I just couldn't pick on thing, so I went with a combo plate, featuring pesto ravioli, chicken Parmesan and some sort of phenomenal cannelloni. And while I certainly didn't finish it all, it was because I was stuffed full of great food, good red wine, and fresh baked bread!
Just as good as my Nana serves it up at home!
If you're in the mood for authentic home style Italian eating, then I can't recommend La Viena enough. Maybe a bit on the pricey side, but more than worth every penny.
Where's you favourite place for Italian food?